Fun Casino Hire in Surrey, near Guildford.
Mobile Fun Casino Hire for Weddings, Corporate events, Birthday Parties etc.
Serving the South East of England, including; London, Sussex, Berkshire, Buckinghamshire, Sussex, Hampshire.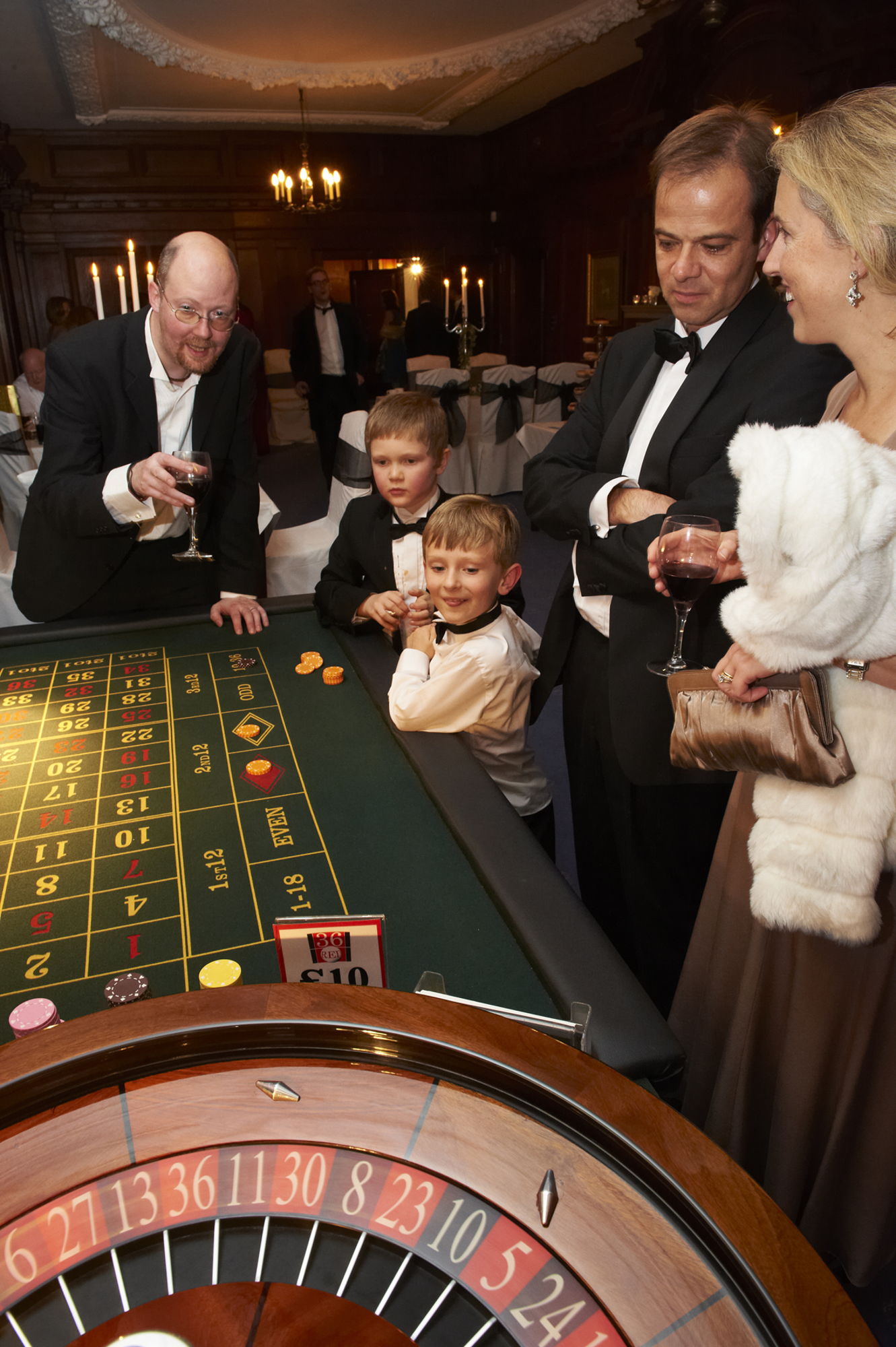 You & One4luck: 
A Winning Combination!
Hello! Paul & Frances are delighted to welcome you to our mobile fun casino website.
We are professional croupiers with over 20 years experience in the gaming industry, gained in both top London casinos & abroad.
Our company ethos is to provide our customers with a bespoke, sophisticated, authentic & above all, FUN casino experience.
From the chips to the croupiers everything is what you would expect to see in a professional casino.
Our emphasis is on providing you with a fun, exciting & memorable occasion.
No detail is overlooked, including creating the perfect authentic "casino" atmosphere with individual lights on all our full size gaming tables.
Knowing how popular Las Vegas & Bond themed events are, we have created our own fun money with either of the two themes. And we are currently working on a Christmas version too!
OR as an optional extra: Do as many of our private & corporate clients choose to do, & mark the occasion with your own unique personalised fun money.
We never lose sight of the fact that every event is as unique and special as each of our clients. All of our enquiries are replied to individually, no generic forms for us!
Leave it to us and our team to inject the FUN element into your gaming experience.
Based near Guildford, Surrey our mobile casino serves the London and southern England area.
One4luck is fully insured and run to comply with the 1976 Amusement & Lotteries Act.
Mar a Lago, is the private members club in Palm Beach currently owned by President Trump.
It was built by Marjorie Merriweather Post in 1924, and it is a stunning house in an equally beautiful setting overlooking the ocean.
Have you ever wondered what a wedding held there with a perfect sunset as a backdrop would look like? Wonder no more!
Sadly, they didn't ask us to fly out and provide the fun casino entertainment, but we can certainly be there for yours.
Yes, the cast for the new Bond film has been officially unveiled, and of course, it goes without saying that there has to be a  casino scene.
So whether your theme is going to be SKYBALL, Spies, Secret Agents or the man himself 007,
you need the expert croupiers to make sure that the fun casino action is as exciting as on screen!
Having lived in the Bahamas where many of the films were shot, we know lots of the locations personally. The Ocean Club, which is located right next door to what is now the Atlantis resort, Paradise Island featured in Casino Royale.
Our daughter swan in the saltwater swimming pool at Rock Point…no sharks in it normally! But plenty on the James Bond wreck.
And Sean Connery lives in Lyford Cay, and used to eat at Capriccio, a little Italian restaurant across the road from where we lived at Cable Beach.
So if you want authenticity,the number is One4luck!
Heading for the last roll of the dice, and planning that final celebration? Wondering…how can I make my retirement celebration an action packed, exciting and fun night?
Would it surprise you to know that we are taking lots of bookings from businesses who are looking for exactly that kind of inspiration?
Goodness, that's an awful lots of questions…and we have the answer. What better send off can there be than an action packed night at our gaming tables? Oops, another question.
With us providing the entertainment…You'll leave a Winner!