COVID – 19 & One4luck
Please don't let the uncertainty surrounding the current pandemic make you put your party plans on hold. 
Here at One4luck, we are happy to say that any bookings taken from today, Tuesday 17th March through to the end of July 2020, will have their deposits refunded in full with at least 14 days notice of cancellation. 
Fun Casino Hire in Surrey, near Guildford.
Mobile Fun Casino Hire for Weddings, Corporate events, Birthday Parties etc.
Serving the South East of England, including; London, Sussex, Berkshire, Buckinghamshire, Sussex, Hampshire.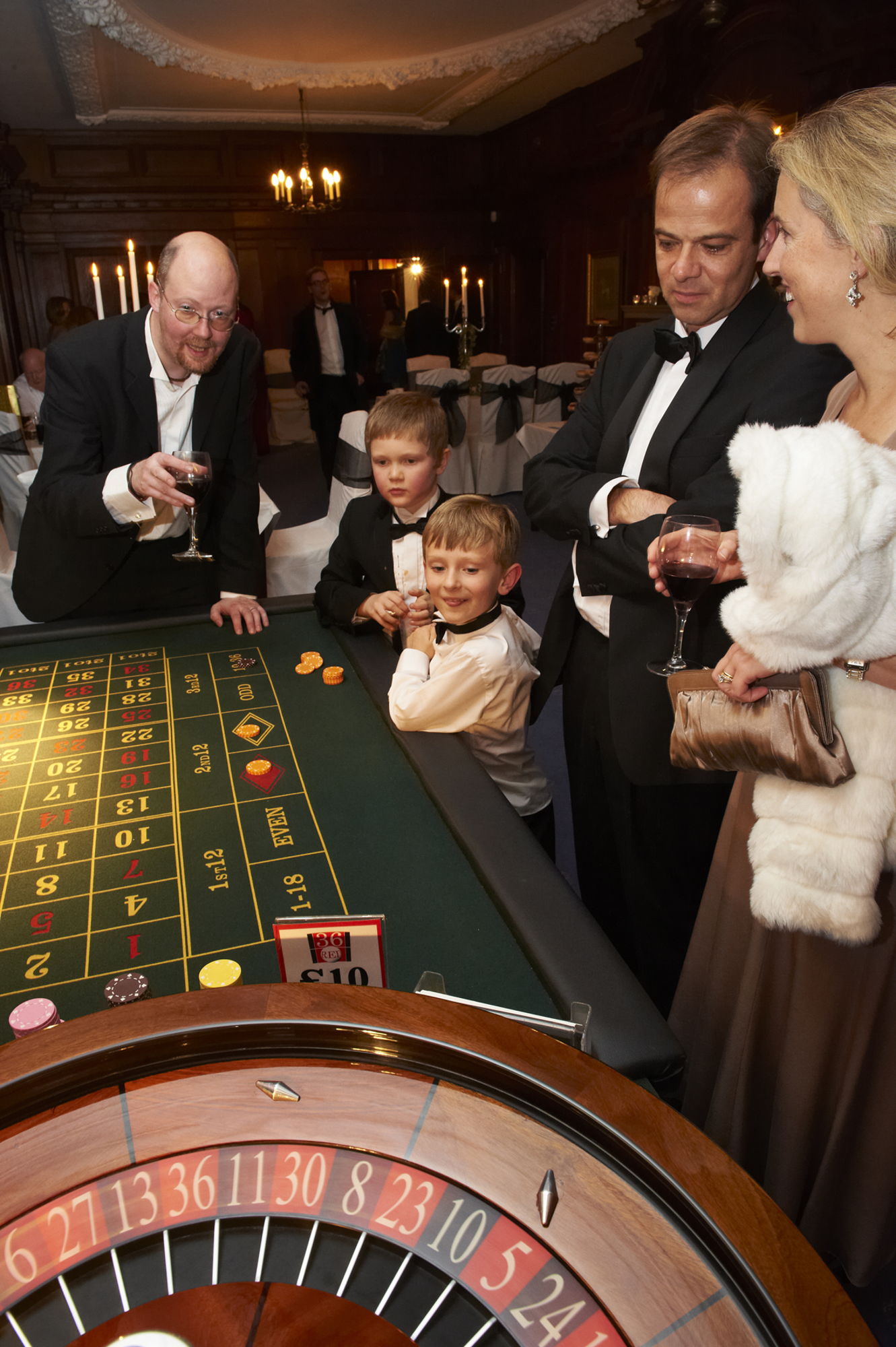 You & One4luck: 
A Winning Combination!
Hello! Paul & Frances are delighted to welcome you to our mobile fun casino website.
We are professional croupiers with over 20 years experience in the gaming industry, gained in both top London casinos & abroad.
Our company ethos is to provide our customers with a bespoke, sophisticated, authentic & above all, FUN casino experience.
From the chips to the croupiers everything is what you would expect to see in a professional casino.
Our emphasis is on providing you with a fun, exciting & memorable occasion.
No detail is overlooked, including creating the perfect authentic "casino" atmosphere with individual lights on all our full size gaming tables.
Knowing how popular Las Vegas & Bond themed events are, we have created our own fun money with either of the two themes. And we are currently working on a Christmas version too!
OR as an optional extra: Do as many of our private & corporate clients choose to do, & mark the occasion with your own unique personalised fun money.
We never lose sight of the fact that every event is as unique and special as each of our clients. All of our enquiries are replied to individually, no generic forms for us!
Leave it to us and our team to inject the FUN element into your gaming experience.
Based near Guildford, Surrey our mobile casino serves the London and southern England area.
One4luck is fully insured and run to comply with the 1976 Amusement & Lotteries Act.
As a country, we may have all "sevened out" in March, but we bring glad tidings of great joy!
You can't keep the British down for long, and our need for fun times and friends is slowly returning.
In accordance with the government's guidelines, we are getting enquiries, and taking bookings, for small gatherings of up to 30. So our two table Roulette and Blackjack combination is perfect.
There are so many postponed celebrations to now enjoy, as well as upcoming birthdays, weddings, and just those…Hey! We need to throw a party and catch up, occasions.
As time progresses, the restrictions on numbers will ease, and the weather is still good for outdoor gatherings. How about popping up a marquee in your garden?
Rest assured, we steam clean our baizes, wipe down with anti bacterial wipes before every fun casino booking, each table will have a bottle of hand sanitiser, and now we also have clear visors to don if the occasion demands.
We're really looking forward to bringing you a thrilling fun casino experience!
It's great to see that so many of you are clicking on our website looking to book our fun casino entertainment for your event.
In fact, we have already taken bookings for weddings next year, and each day brings a fresh enquiry. Which is heartening news in these troubled times.
Now that two households can meet, have you considered having us drop off a Blackjack or a Casino Stud Poker table, together with all the necessary equipment and rules, to allow you to entertain yourselves?
Our tables are full size, and will be steam cleaned prior to delivery. We can provide hand sanitiser and unopened decks of cards.
We even have one table which can be flipped, giving you a Blackjack layout on one side and a Casino Stud Poker layout on the other side.
Sounds like fun? Then why not give us a call, and see about booking a table for a day or perhaps a weekend?
Blackjack table, chips, Blackjack shoe, cards and rules including delivery and collection within 30 miles of Woking.
Casino Stud Poker table, chips, cards and rules including delivery and collection within 30 miles of Woking.

One night: £200  Two nights: £250

Flip Blackjack and Casino Stud Poker table, and all above:

One night: £225   Two nights: £275
The entire world has come to a halt and is focussed on beating CORVID 19, and of course, that has meant everyone has had to put their plans for Weddings, Birthdays, Charity Fundraisers, PTA Summer Balls and Corporate Fun Days on hold.
With a glorious April unfurling outside our windows, there are encouraging signs that the battle is being won and that we will be able to resume our normal lives. Hopefully with a greater awareness of the need to be kind, less hurried, and caring of the beautiful planet we live on.
And of course, with a profound gratitude for all the frontline workers in the NHS who have selflessly put their own lives in danger fighting the pandemic.
Once we get the "All Clear", we will be busy rescheduling all the bookings which our clients have had to put on hold, and looking forward to being able to bring all of you a thrilling fun casino experience.
In the meantime, the cat's Roulette skills are really coming along!
Stay well, stay safe and see you on the other side.